Shopping Basket
Your Basket is Empty
There was an error with PayPal
Click here to try again
Thank you for your business!
You should receive an order confirmation from Paypal shortly.
Exit Shopping Basket
| | |
| --- | --- |
| Posted on 20 December, 2017 at 7:15 | |
RACING is all about opinions but some count more than others. When it comes to rating horses under national hunt rules, senior handicapper, Noel O'Brien and his colleague Sandy Shaw, have the last word.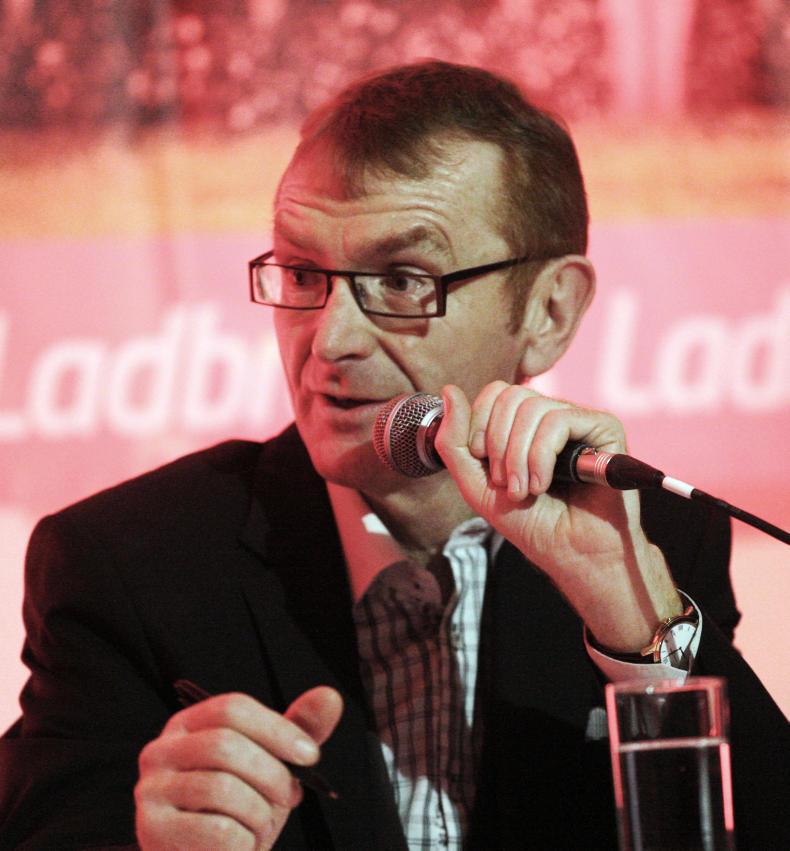 That type of power could give some people a touch of a God complex but while O'Brien has to have confidence in his judgement, this is not a dogmatic individual. In truth, 33 years of having your opinion appraised, and proven right or wrong publicly on an almost daily basis, is likely to keep you grounded but you couldn't ever imagine the Kildare native ever being anything other than down to earth.
He has always favoured an inclusive approach towards his job. He makes the final call but is open to suggestion and discussion. He invites it, which is why he is the most visible and accessible Turf Club official in the country. He needs to be able to stand over his decisions so is happy to have as much information at his disposal as possible.
It seems a thankless task but it is one he relishes; gaining as much satisfaction and enjoyment from it now as he did when he started in 1981 as assistant to then senior handicapper Captain Louis Magee, the man who devised the double handicap system in response to Arkle's dominance.
He makes no bones about his role in what he describes as "the game" – and the irrefutable fact that a trainer has a very different role. That doesn't amount to cheating on the handler's part though, he insists. Take, for example, a horse running on unsuitable ground or over an inadequate trip.
"I know some people have a degree of suspicion about that but trainers are trying to get the optimum mark. And that's the game. They have one job to do, I have another job to do.
"I genuinely think though that sometimes trainers are trying to find out about their horses themselves. You can't be dyed in the wool about stuff like that. Like handicappers, trainers are learning all along.
"People said Annie Power was a certainty over three miles. She stayed but was she as effective as she would be over a shorter trip? There are no guarantees."
Originally from Caragh, a village situated between Curragh and Punchestown racecourses, O'Brien was hooked on racing from his first visit as a six-year-old to the latter festival in 1966. The now defunct 'free side' complete with such delights as swing-boats and chair-planes were an attraction, but nothing like grasping the 20p each-way docket while propped up on the rails, almost able to touch the passing horses, and being overcome with the intoxicating feeling brought on by the hooves thundering off the sod as they galloped past.
A career guidance teacher from Cork by the name of Mick Hayes had a huge influence and is directly responsible for O'Brien's career path. The appointements they had in the Tech in Naas (now Piper's Hill College) invariably centred around likely winners rather than what the teenage Noel might consider a likely future.
It all worked out in the end though, as Hayes organised an interview with the Turf Club. O'Brien, being from the bog, thought it had something to do with Bord na Móna initially. He created the right impression though and spent two years in accounts, followed by two years in declarations, before Magee took him under his wing in 1981.
There have been many changes in that time in terms of technology, although the basic principles of the job remain the same. Amongst the changes he has overseen that he feels have improved the system is the need for a horse to be within 45 lengths of a winner to get a handicap mark, the requirement of only two chase runs to be rated over fences, the inclusion of hunter chases as being eligible for rating and extending a horse's novice season until September if it wins towards the end of the season proper, thereby increasing the competitiveness of March racing for example.
"The one thing about handicapping is that experience teaches you an awful lot. Where you can get a big head after a close race, you understand that in the very next race, something could bolt in by 15 lengths.
"I'll watch the races live with the stewards. I would say nine times out of 10, what you see live is what you're going to go on eventually. You've seen it, your mind has come to a conclusion. We'll then go back inside and watch it from the different angles and it is amazing how much extra you'll see.
"But as regards what you're likely to put the winner up, or the second or third, that's what you'll probably do on the first run. But with the others, or horses that were unlucky in running, you'll use the other views, reports from the jockeys and trainers – all of that is part of the process."
He still gets nervous, particularly on the big days. His opinions are dissected from the moment the weights are published and invariably, he's after getting a bashing, ever before the white flag has been raised. Yet he understands that.
"It's a hugely important job. The impact handicappers have on the racing industry is huge. It affects people's livelihood if they think a horse is rated too high, or at times too low. All handicapping is, is one man's opinion. Five or six of us could watch a race and sit down and come up with a different opinion. Who's to say who's wrong? But I decide what the official rating is and I'm very conscious of that. It's a huge responsibility because it affects people.
"If the favourites of the handicap were winning every time, if I'm setting a puzzle, it means the majority of people have very easily solved that puzzle and that's not good. But the favourite (Shutthefrontdoor) won the Irish National and myself and Sandy were so thrilled because you had 12 or 14 horses in contention in the second last before the favourite won it.
"In the previous two years it was 50/1 and 33/1 outsiders. It shouldn't be a given that a favourite will win or an outsider will win. If the handicapper has done his job, every horse should have a chance of winning it.
"It's not just handicaps though. It's every national hunt race over hurdles and fences. If you look at the Grade 2 in Fairyhouse, Thousand Stars was rated higher than Get Me Out Of Here but the punters took the view that Thousand Stars wasn't as good as he was and that was an understandable position to take. As it happened, the race worked out in our favour. But what you're trying to do is get competitive racing.
"You had 8/1 the field for the National and at one stage it was 12/1 the field. That's the majority of people not being able to find the winner. As it turns out, they found the right one, but at the end of 3m 5f, to have that many horses in with a chance… if anyone wants to know what makes a handicapper's life, that is it."
There are down sides though. And they don't revolve around being accosted by an angry trainer or owner.
"If you don't get sickened by a horse bolting up in a handicap… for me personally, it's an absolute sickener. Even after all these years. People think you get used to it. There was one in Fairyhouse the other day, Lots Of Memories bolted up in a handicap hurdle. Embarrassing? Absolutely. So you look at 'why did I get that so wrong?' You're trying to explain it to yourself. Yes, the big results might give you the big head but you'll be brought very, very quickly back down to earth."
He is always working but that doesn't prevent him enjoying racing, just as he always did. The big days in particular still tingle his spine, with the past week at the venue he first fell in love with the sport 48 years ago always a highlight. He loves the fact that the public can become attached to jump horses, because they're around so long and will never forget the reception afforded to Sprinter Sacre last year. Or, one suspects, to Sizing Europe this year.
He thinks his relationship with the trainers in Ireland is generally a good one.
"I'm probably the wrong one to ask but I would say 'yes'. I think national hunt trainers are the salt of the earth. They understand that I'm doing the job as best I can and as fairly as I can. And I think while yes, they won't be best pleased a lot of times – that's the nature of what handicapping is.
"But I'm hoping they see that what I've done, I've done fairly, and that I believe at that point of time to be the right decision to make. If they come to me and state a case why a horse should be lower, I do listen and I do change it (if the case is a good one). It can't be written in stone."
But what if he has been embarrassed on multiple occasions by a trainer? Surely, there is a temptation to err on the side of caution with the rest of that handler's representatives.
"That's the hardest part of it. But handicapper's assessment and decisions can be appealed to a higher body. So it's not just a case of, a trainer's horse bolts up a few times and I decide next time to give him 10lbs more than he deserves. I can't just do that willy-nilly. I have got to be able to justify any decision I make.
"I'm answerable as well and that's the way it has to be. That's something Louis Magee taught me early on. You can do what you want once you can sit down with somebody and explain it.
"That's something I think national hunt trainers are good about. They might hate your guts for what you've done to their horses but if you can explain it to them, once you make a logical case for what you've done… happy might be too strong a word but they'll be more accepting of it."
Speaking of relationships, the one between between the Irish and UK national hunt handicappers is far more positive now, after "a rocky period" up to the turn of the century.
"I think at one time we were working from different angles with different objectives shall we say. But since the Anglo Irish Classification, we get together on a more regular basis where we compare notes; there are more English horses running in Ireland and more Irish horses running in England, it's easier to compare and contrast.
"If you look at the results of Irish horses in handicaps in Cheltenham over the last number of years, I don't' think Irish trainers have anything to complain about at all. The English handicappers take on board what we're saying. It's their decision but I would have to say they have been very fair in the majority of cases. The proof is in the eating."
He is adamant that four-runner pattern races are not the blight that many observers view them, preferring four top-class runners in a contest that each have a chance of winning, rather than four contenders and four no-hopers.
The recent Irish Grand National was close to his best day in the job he reckons, because of the sight of that cavalcade of horses barrelling towards the second last. The worst day leaves him more sombre, but typical of the man, he finds the positive too that his passion for racing guarantees.
"Any horse getting killed is a bad day but the worst was when John Thomas (McNamara) had his spinal injury. I was talking to him the previous day on the steps at Cheltenham and he was saying that it might be his last season. He's such a lovely individual… for what he's achieved and to be so humble, chatting away.
"(Who knew) that following day he was going to be where he is now? It tells you about those guys in national hunt. They are literally risking their lives. That evening… normally Cheltenham is so buzzy, they're all having a great time, but you really felt a darkness descend. It was a horrible, horrible day.
"When you see then though what happened in Limerick on the fundraising day… it's what's best about racing. People just responded brilliantly. They couldn't do enough. It was a lovely postscript."
This article was commissioned by and appeared in The Irish Field in April 2014.
Categories: Horse Racing
/