Shopping Cart
Your Cart is Empty
There was an error with PayPal
Click here to try again
Thank you for your business!
You should be receiving an order confirmation from Paypal shortly.
Exit Shopping Cart
| | |
| --- | --- |
| Posted on 5 May, 2017 at 11:40 | |
OISÍN MURPHY seems to have been around a long time but then he was so young when he shot to prominence. He handled that meteoric rise remarkably well, showing a maturity way beyond his years and being extremely comfortable dealing with media interest.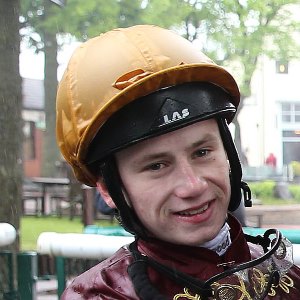 The Killarney native has coped just as well with the setbacks that inevitably come in racing too. He possesses a keen understanding of the various pitfalls, the nuances. He has done well but given he doesn't turn 22 until September, has loftier goals, to ride Group 1 and Classic winners. As first jockey in Britain for Qatar Racing, it is, he insists, what is expected of him.
There is no fear of this expectation. This, after all, is a young man whose family relocated to Buttevant so that the then 14-year-old could have better access to the expert tutelage that his uncle Jim Culloty, who was based there, could provide. He spent time too at Ballydoyle under Aidan O'Brien's eye.
So he would never rest on his laurels, think he had it made because he had a good job. Just as he learned he wasn't God's gift when riding a four-timer that included the Ayr Gold Cup in 2013, enjoyed a successful run in Australia with Danny O'Brien (pictured below with Murphy) or was champion apprentice the following year. So apart from his commitments to Sheikh Fahad and Andrew Balding, he rides out regularly for lower profile handlers, grafting away because you can never have too many contacts in racing, and you never know when you might need them.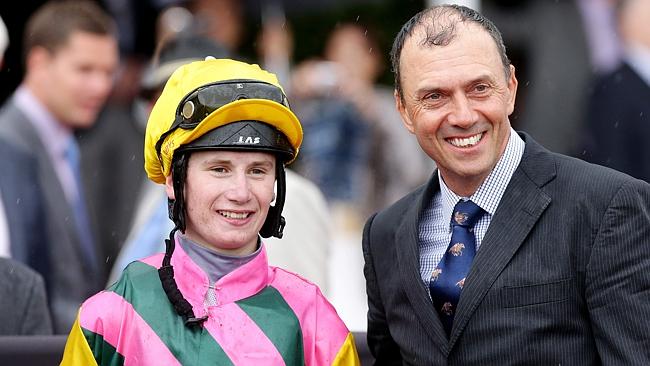 A rider who particularly enjoys winning from the front, Murphy has enjoyed a good year, for the most part.
"I came back from Hong Kong the first of February and mixed it between here and Dubai" says Murphy. "I went to Dubai once a week for the Carnival and I was lucky out there, getting a lot of rides through the spring. It's helped. A lot of the small trainers like Rod Millman and Joe Tuite have had plenty winners early doors and that kept me busy. Then Andrew's horses are starting to come out now and the Qatar horses will be coming out as well. It can be very slow if you don't have fellas that get going early.
"It can be a lonely old week if you've been riding three or four every day and you think you've chances and none of them win. I'd a great February, March was quiet and thankfully April's gone well."
That aforementioned stint in Hong Kong was his first, and though he only rode five winners in 10 weeks, Murphy enjoyed the experience.
"It's probably the hardest place to get going I've ever been in. When I went to Australia I didn't find it as hard. Obviously in Dubai, you'd go there for a job and be guaranteed rides, but in Hong Kong, everyone is freelance and Joao Moreira, Zac Purton and Nash Rawiller have ridden over 50 Group 1 winners apiece. They've lots of experience and are world class jockeys. Because there are only two tracks there – Sha Tin and Happy Valley – you can kind of master them. They move the rails and it makes a big difference tactically but those lads, because they're riding there for years, know every horse in training there, so it's pretty hard to break the mould and get going there. I was glad to ride a few winners and I'd good support. I had plenty rides and I enjoyed it. It was a great change of scenery and the locals were very good to me."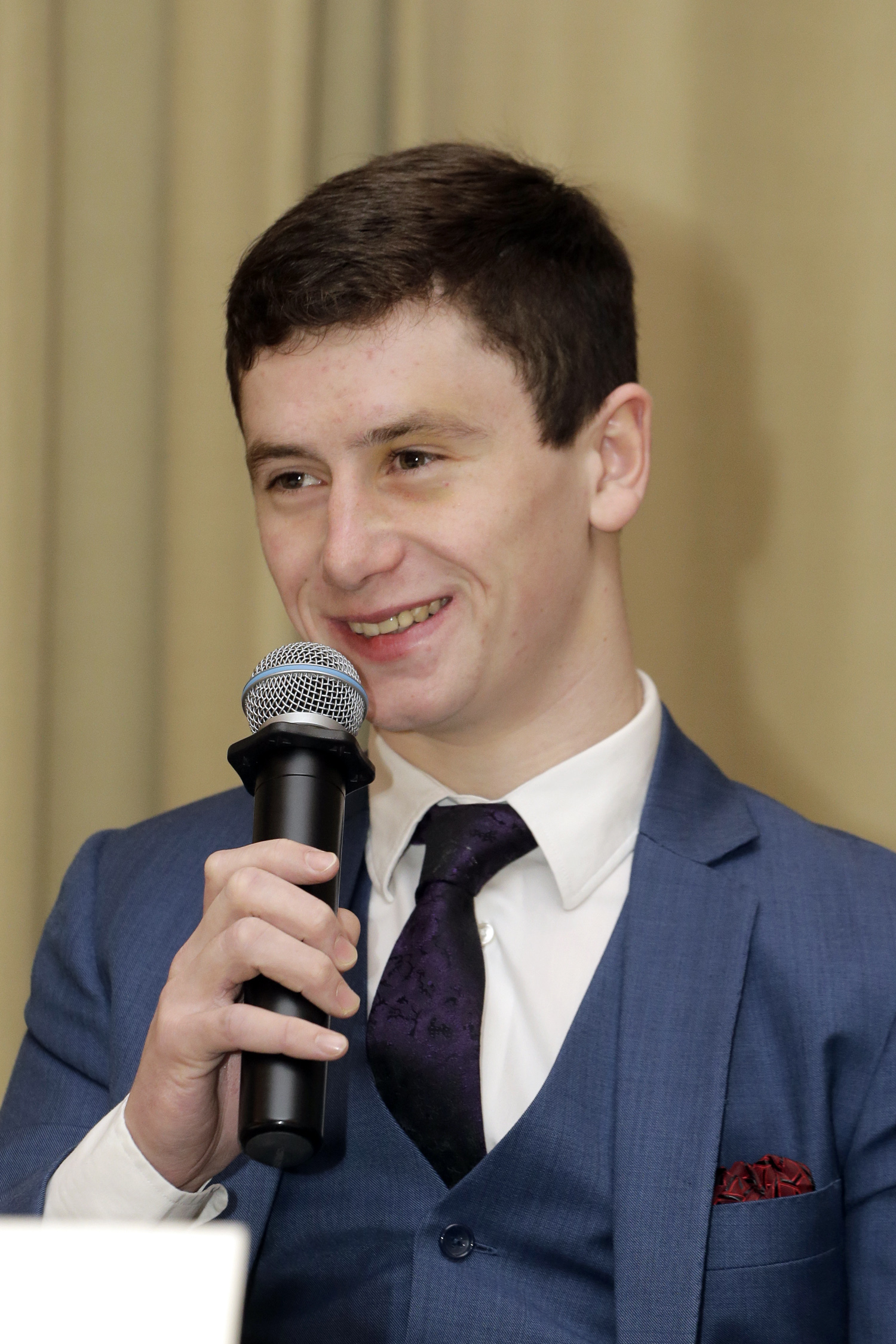 He has always enjoyed Dubai, once riding 17 winners through the Carnival.




"I'm fortunate 'cos I get good support off some of the local trainers there. I ride for Saeed Bin Suroor a good bit. I think I'd five Carnival winners for him and I only went there five times this year. A lot of the English trainers put me up as well. Meydan is a track I know well and I know Dubai fairly well as I spent six months there two or three years ago with Dhruba Selvaratnam.




"I just flew in and flew out this time. You can go missing off the scene too long and I was afraid if I went straight from Hong Kong to Dubai, and didn't reacquaint myself with my contacts that I have back here, other people would be riding out for them and doing the hard work. The only way you get on is putting in the hours.




"You're only as a good as your last winner. (Last) Saturday I had two seconds in two Group 3s, the Greenham and the John Porter Stakes, and you just have to lift your head up and go out the next day and try and ride a winner. Seconds are no good to anybody."




This is all delivered matter-of-factly.




"When I grew up as a child it was always drilled into me how hard it was to make it as a jockey, both from my parents and grandparents. I saw Jim riding on the TV all the time and I knew he was lucky to be riding good horses and that there were other jockeys that weren't riding good horses. So I knew that fast horses make fast jockeys and that's very important.




"When they thought about where to send me as an apprentice, it was important that they send me somewhere I was gonna learn and was gonna get support if I was lucky enough to ride out my claim. Jim and Aidan O'Brien thought about that, everyone's advice was taken into consideration. I didn't have a choice in the matter, I was just sent to England, and thankfully they made the right choice by me.




"I saw apprentices at Andrew's and other yards that were flying at one time and then a month later, they couldn't buy a ride. And then a month later they weren't even riding. That was always at the back of my mind. Even when I lost my claim I saw a massive difference. I went from riding for big, massive trainers… and you start thinking to yourself 'I'm a good rider' but as soon as you lose your claim, you know the real world.




"I was fortunate that I had people that kept bringing me back down to earth. You can get a false sense of security. That's why on Sunday morning I was riding for Joe Tuite, yesterday morning I was riding out for Geoff Deacon. Lots of people haven't even heard of these trainers but a good horse can come out of anywhere."




Balding in particular made sure to protect Murphy's claim as long as he could, and though the youngster wanted to be out there, he understands that the guvnor did the best thing for him.




"I never questioned whether he was right or wrong but it's very hard to be at home on a Monday or Friday, knowing I could be riding every day, but then on Saturday I was going racing on five favourites. He gave me trebles at Ascot, Doncaster and York within three months of each other. He was very, very good to me. He gave me every chance to make a success of it and now he lets me ride a lot. I can't thank him enough.




"You'll see apprentices that ride loads of winners in smaller races and unfortunately then, once they go down to three pounds or lose their claim, that trainer who was providing him with winners goes onto the next apprentice and it becomes very difficult then. I think whether I understood it or not at the time, I definitely look back now and see that he was right."




Murphy is extremely thankful too to the hands-off approach of Sheikh Fahad with regard to how he rides his horses. But throwing his leg across another top lot or a homebred by Frankel, Dubawi, Galileo, Sea The Stars or Invincible Spirit, he knows what must be done even if the pressure isn't projected on him by the man spending considerable sums of money to supply the conveyances.




They are, says Murphy, very strong in the filly department. He expected Love Conquers to have run well at Sandown yesterday, believing that she could come on for the run to develop into an Oaks filly – and as a daughter of Deep Impact and Group 1 winner Love And Bubbles, she is bred to be smart. Rich Legacy may have similar aspirations as a Group 2 winner last year, with the Oaks Trial at Lingfield a likely stop. Among the older brigade, Mountain Bell will target all the Group 1 fillies' races and Diamond Pour Moi is a Group 3 winner who might move up.




As for the colts, South Seas was disappointing at Newcastle but Murphy is keeping the faith, maintaining that while he was ridden handy last year, he stopped in front last time and could benefit from being dropped a little more. Son Of The Stars should be a black-type performer.




Meanwhile, the two-year-olds won't be stepping up work for a while apart perhaps from the progeny by Scat Daddy and Exceed And Excel that were acquired at the recent breeze-ups.




Of the older males, Pallasator retains his enthusiasm but with so many strong stayers to choose from, Murphy might not be on board his old pal as often in the year ahead. He is very enthusiastic about resuming his acquaintance with Lightning Spear though.




"He's been great for me. Hopefully with those other horses being a year older now, Ribchester and Minding and Galileo Gold, they won't be getting those weight allowances and Lightning Spear will get his just reward. He's getting better, his last run was a career best. The plan, all being well, will be to start off in the Lockinge. He goes very well fresh and hopefully he'll get fast ground. I'm excited about him. He probably will be the highest rated horse in the country soon if Postponed doesn't get on the winning trend again. (Postponed was retired just a matter of days after this article appeared in print) He's a nice one to have. And Simple Verse is on the way back as well."




A 10-day suspension for careless riding at Newcastle means he has to look on for far longer than he would like. Missing the Guineas especially will be torture.




"Hopefully they'll go and win but it was my first opportunity to ride in those races. Hopefully they won't be my last but you never know in this game and I wanted to grasp those opportunities with both hands.




"It was silly the way it happened because I was on a horse for Andrew in a mile-and-a-half race in Newcastle. It happened about a furlong after the start. I thought I was last and I shifted about half a horse width to my left. I heard a shout from PJ McDonald and when I looked around he was on the floor. Thankfully PJ was okay but it's a shocking result for me and I'm gonna have to live with that now and just hopefully move on from it."




It is part of the learning curve.




"I got a two-day ban recently recently for the stick, and it wasn't for overuse of it, it was for force, which I never got done for before. I went home, I saw my mom and dad, I went to Jim's and I rode out for Joseph and Aidan (O'Brien). So the 10 days, hopefully I'll get into a few trainers in Ireland. I love all that. Whereas if I stay over here I find it very tough. Even if it's for a day – it could be a maiden in Wolverhampton. It isn't even about the winner, it's that I want to learn about the winner."




And though the younger O'Brien has had him schooling horses, he will be avoiding the obstacles in his professional capacity. With plenty opportunities when he does return, from Qatar, Balding and the army of trainers he keeps onside including, when available, Saeed Bin Suroor – "we can't team up a lot because I've got different commitments but when he puts me up he tends to put me on fast ones and I just have to point and steer" – he will hopefully hit the ground running once more.




"If we've a horse fast enough hopefully I'll be able to get the job done anyway and it looks like we have the ammunition. Fingers crossed."







THOUGHTS ON 2000 GUINEAS

"Richard Hannon knows how to win a Guineas and James Doyle is a very experienced rider, and I think Barney Roy has a very strong formline from the Greenham because I think the world of Dream Castle but he just raced a bit keen. I think later on in the year you might see Dream Castle reversing the form. Churchill for me has the strongest form from last year. He's going to improve on pedigree. I saw him a few weeks ago and he looks a million dollars. There's no better man to train a horse for a race like that. He should take a lot of beating.




"The French horse, Al Wukair won a very strong trial and I think the French have an advantage in that their trials were a little bit earlier this year and they can freshen up their horses again before the Guineas. Andre Fabre has a very strong hand of three-year-olds. I don't think he'd run one in the English Guineas if he didn't think he'd be in the first three.




"But for me, if I had a horse to ride in the race, I'd love to be on Churchill."







THOUGHTS ON 1000 GUINEAS

"I wouldn't look past Poet's Vanity. She was just ready to start off the last day (when third in the Nell Gwyn). She's a bigger, more impressive filly than most of them that will line up, she looks like a colt. She'd have needed the run, she's a Group winner from last year and has already beaten most of the fillies that'll be up against her. Andrew has won a fillies' Classic before, he's won an Oaks and he knows how to train them.




"Aidan has Hydrangea and Rhododendron in there. Charlie Appleby's good filly Wuheida is out. It'll be interesting to see how the French line up. I don't know if they're as strong in the fillies' division when you consider that Wuheida won the fillies' two-year-old race at Chantilly last year. So I wouldn't have swapped Poet's Vanity for anything in the race. She's probably around 33/1 and she could run a big race."




This article appeared in The Irish Field on Saturday, April 29

Categories: Horse Racing, Flagged

0

/