Shopping Cart
Your Cart is Empty
There was an error with PayPal
Click here to try again
Thank you for your business!
You should be receiving an order confirmation from Paypal shortly.
Exit Shopping Cart
| | |
| --- | --- |
| Posted on 14 April, 2017 at 11:25 | |
IT IS another of those quintessential national hunt stories that captures the very essence of jump racing.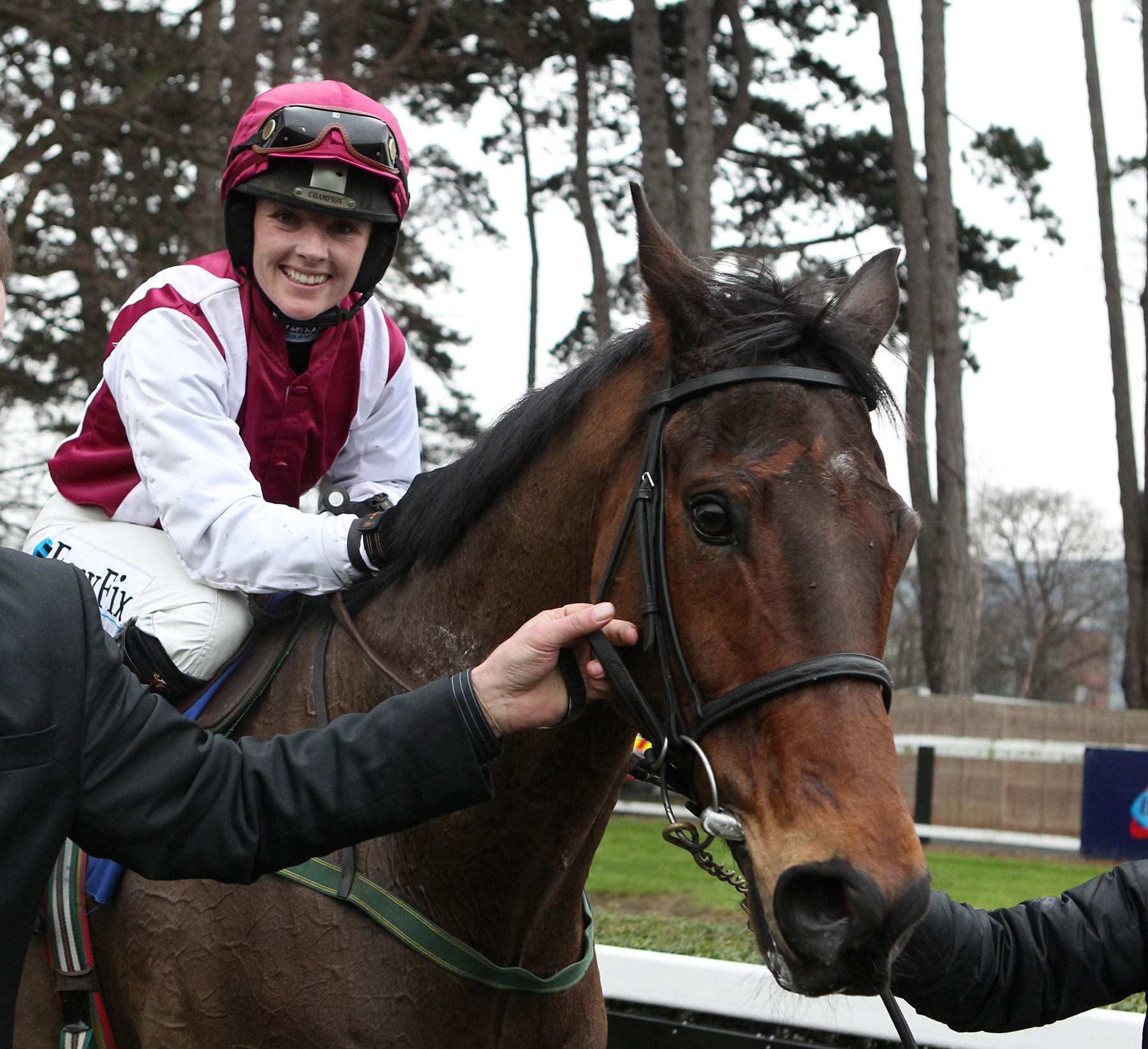 "Katie has done a great job with him; you have to hand it to her... She's with him every day; she knows the horse, the horse knows her and that has to be a help" (Photos: Caroline Norris)
It starts with an inexpensive purchase that shows early signs of potential before a number of gut-wrenching setbacks leading to 52 months on the sidelines look like rendering that potential unrealised. Cue the patience and perseverance of connections, the character of the horse himself and the added ingredient of a female jockey closing in on history.
It doesn't end there. Others had small but significant roles. People like John Thomas McNamara, who is now in the middle of a huge battle after fracturing two vertebrae in a fall at Cheltenham.
People like Gerry Kyne from Kiltrogue Stud and his late son, Jamie. The 18-year-old was killed along with fellow apprentice jockey, Jan Wilson in a fire caused by an arson attack in England less than four years ago.
No shortage of sadness and poignancy then, but largely, this is a tale filled with joy and fortitude.
Pat Glynn was browsing through none other than The Irish Field when he spotted an ad placed by Enfield breeder, John Costigan. Glynn travelled east to Kildare and purchased a foal for €7,800.
They Kynes did the breaking and Glynn always recalls Jamie's words to him.
"That's a horse that'll go places for you."
Glynn got in touch with five friends from Dunmore and offered them shares in the prospect. Pat Gleeson, Robbie Byrne, brothers Donal and Niall Collins and John Harte were in.
Pat and his brother Jimmy were talking to Ruby Walsh at Roscommon races one day and conversation turned to their own horse that had been coming along nicely.
"Send him to the oul' fella" said Ruby. And so, Seabass was bound for Ted Walsh's yard in Kill.
Nobody forgets the people that are intrinsic to the story and despite the bad times, the Gunners Syndicate members know that their wildest dreams have already been exceeded.
If Seabass is wins the Aintree Grand National, making Katie Walsh the first female jockey to win the great race, the movie executives will be knocking each other over to make the film.
While Glynn was the driving force, buying the foal, getting his mates involved, naming the horse after a favourite meal (it fitted with the maritime theme required for a son of Turtle Island too) and naming the syndicate after his beloved Arsenal, Harte's story is just as interesting.
A complete neophyte in racing terms when approached by Glynn (although his father had owned show jumpers when John was young), he is an ardent convert now, transfixed by the game, in awe of the people and horses that bulwark it.
He and his wife Mary paid a visit to Ted Walsh's yard in Kill recently. As a butcher, he had promised Ted's wife Helen a leg of lamb and came bearing a few more gifts while he was at it.
"I said to Mary 'I can't go meeting that woman in Aintree and no leg of lamb'. It was nice to talk to them because on race day it's all go" says Harte.
Helen, in turn, doled out a hearty breakfast and drove them to the Curragh, where Katie was working Seabass. After that, they just moseyed around the Walsh stables, engrossed by the care and attention to detail that goes into looking after every inmate. Harte knows how lucky they have been that the Glynns ran into Ruby.
"We couldn't ask for better. We'd never question them. Anything they do, 100%. It's 'whatever you think Ted'. They think the world of the horse and are always minding him."
The Hartes revelled in their day trip to Kildare and were struck by how much a family affair it was. As Helen told them, the Walsh clan don't know anything else.
Just like John and his trade. His father was a butcher. Where Ruby, Katie, Ted jnr and Jennifer rushed home from school to ride horses or do chores around the yard, Harte went straight for the slaughter-house behind his home.
At 18, he set up on his own in Dunmore and it is in almost 20 years there that the friendships were forged with Glynn, Gleeson, the Collins brothers and Byrne.
As business ground almost to a halt three years ago, he decided to take a chance and move to Castlerea. That has worked a treat, with the Roscommon folk welcoming the Galwegian with open arms and crucially, embracing his product.
The recent controversy involving horse meat has only served to enhance the role of the local butcher, but given Harte's connection with racing now, there is much banter between proprietor and patrons of late.
He is the type of individual that likes a laugh and is "game for anything". So he barely hesitated when Glynn came calling.
"I never thought we'd end up where we were and today, I still don't think it. It's a dream. I have a DVD of all the races and with Aintree, I still can't believe what happened."
Seabass was second on debut at Belharbour point-to-point, when in an interesting twist of fate, he was ridden by Ross O'Sullivan, who is now Katie Walsh's boyfriend. He followed up by skating in under McNamara's guidance "on a scuttery old day" at Horse & Jockey.
"That was the day we thought he might be a good one" recalls Harte. "It's sad to think about JT now but we all wish him well."
Injury lay-offs of 18 months, 13 months and 21 months followed though. Given that Seabass had walked away unscathed from an altercation with a car in his youth, you might have expected him to have a stronger constitution. His legs are a weakness though and even now, require constant attention.
Harte admits that thoughts of throwing his hat at it entered his mind at times when it looked like there was no hope.
"I'm not denying it. I said 'what will we do now?' We thought at once stage he was finished, headed for the knacker's yard. There's no point saying any different. There were two years there where there was nothing happening.
"The legs will always be a problem and we're delighted every time he comes back from racing."
Since resuming the latest phase of his career by winning at Ballinaboola point-to-points in November 2011, the trajectory has climbed steeply.
Three handicaps and a Grade 2 chase were bagged, making it seven consecutive victories before finishing third in the Grand National last year, having led jumping the last before tiring.
Last term was a voyage of discovery. This season, they knew what they had so Seabass has been campaigned more steadily. He finished second in a 2m hurdle at Fairyhouse at the beginning of February before returning to the Meath track less than three weeks later to be third in the Bobbyjo Chase.
In all, with eight wins and a career that has garnered approximately €260,000 in prize money to date, the ten-year-old is almost like a member of the family now.
Harte clearly loves Seabass. He has brought so much happiness but he's a trifle temperamental too. Definitely an individual.
"He's a wiry little yoke. I had him in a slatted house in Ballintubber and when the lads came to get him he was eating a round bale with a rake of cattle. The same buck, he wouldn't be too pushed.
"He's a fiery fella. Ted Walsh says that when you don't bring his feed in time, he kicks the wall. In the early days Ted had an awful time with him, he was always throwing jockeys off his back. He was a 'tempery' buckeen. He likes to get his own way.
"I watch the DVD of the Grand National once a week, if not more, and the tears still leave my eye. I watched it last week and I got emotional about it. I don't know if it's because it's coming so near to the time again."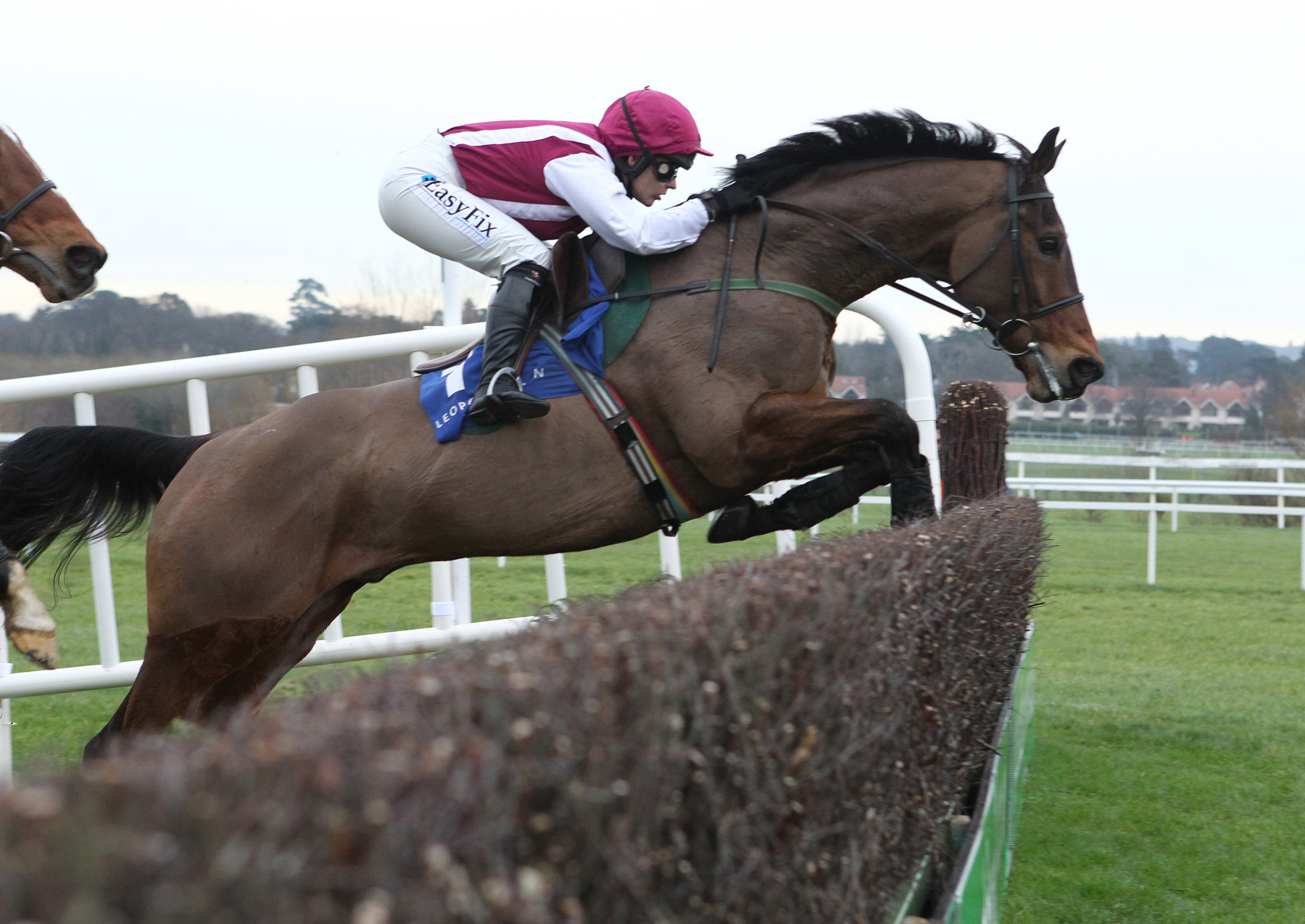 Seabass and Katie Walsh jump the last on the way to winning the Leopardstown Chase in January, prior to finishing third in the Aintree Grand National




The thought of winning a Grand National is almost too much for Harte to get his head around. For ages, talking about even running in the race seemed insane.




"Ted always had it in his head I reckon but he doesn't say much. He did say 'I think we have a contender here' but we thought he was out of his mind. Amongst ourselves, we were thinking we were out of our league.




"But we always had confidence in Ted, that he knew what he was doing. When he won at Naas Ted said 'pack your bags lads, we're off to Aintree'. Even then we thought he was mad!




"Katie has done a great job with him; you have to hand it to her. She's on him again now and I always felt it wouldn't be fair to take the ride away from her. I'm not taking from Ruby obviously! But she's with him every day; she knows the horse, the horse knows her and that has to be a help.




As preparations go, they couldn't be happier. Given Seabass' chequered history, you are always on tenterhooks about getting there fit and healthy. As the trainer said in typically colourful style after the Naas win last year, "he has been on the scrap heap three times already".




Harte is torn between just wanting Seabass and Katie to come home safe, and the possibility that they might fly to the moon.




"He has more weight but he's lightly-raced. If he doesn't fall he has a great chance. He made a few mistakes last year and Katie said he had nothing left at the end.




"Last year, we went over on the Friday after doing a day's work and we'll do the same this year. I watched it, as I always do, on the television because you can't see a race properly otherwise, especially one like that.




"I had to turn away a few times. I couldn't believe what was happening. When you have only 15 finishers out of 40, and you see your own fella in third, it's pretty unbelievable. It was great for Katie and great for the Walshs.




"All I hope is he stays safe and gets around. And that the jockey gets home safe. That's all I want. I don't care where he finishes after that. It would be lovely to be around the first five but it's very important to get around safe.




"He's in good form. Ruby reckoned after his first race in Fairyhouse that he's a better horse than last year. So he'll hopefully have a chance."







This article appeared in The Irish Field in April 2013. Sadly, John Thomas and Seabass are no longer with us but like Jamie Kyne, they left a positive imprint on many lives prior to their premature deaths. Much more happily, unless you were hoping to get it on with either of them, Katie and Ross have gotten married.

Categories: Horse Racing, Flagged

0

/