IT IS undeniable that turning professional has brought change in Katie Taylor's life, but only around the edges. The really important stuff remains the same.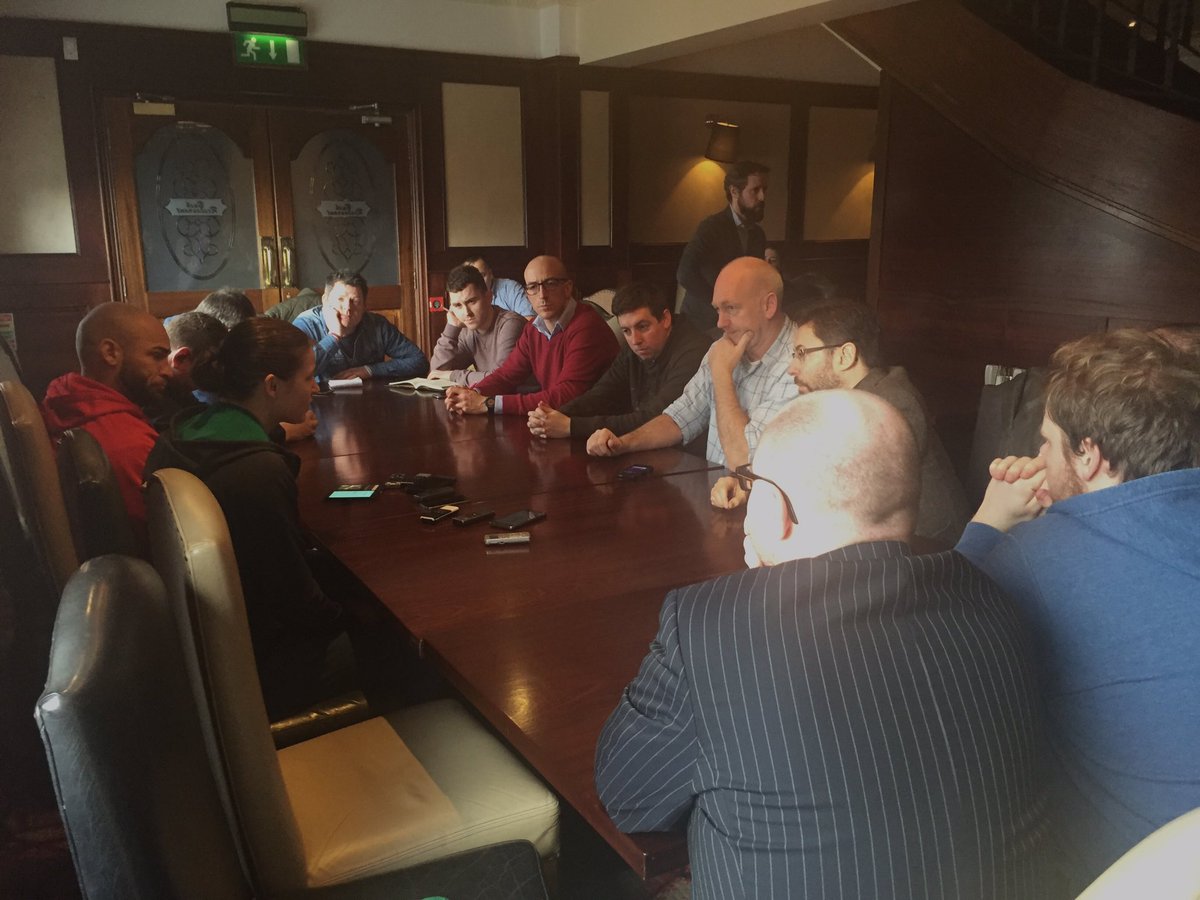 Katie Taylor confronted by the cast of Grumpy Old Men
There is a new coach Ross Enamait, whose American base means having to be away from home for longer stretches Taylor might have been accustomed to. Disclipline, sacrifice and hard work were never a problem for Taylor though, and such are the intensity of the training camps that she is too tired to do much other than sleep anyway when there is free time.
The midriff-exposing ring attire is a departure for sure and there are many more media commitments.
But Katie Taylor is 30 years old now. She doesn't get pushed into anything she isn't comfortable with, that would be a lie to who she is. Smiling politely in front of TV cameras and press buzzards is grand, part of the gig; so too wearing standard ring attire that shows a bit more flesh than the amateur singlet. It's no big deal.
Eddie Hearn and Brian Peters look after the promotion and the bookings. She trusts them. But she won't do whatever it takes to sell tickets. You know she won't be doing any racy photo shoots though. Nor will she be trash-talking opponents, predicting rounds in which they will fall. She won't be railroaded though.
"No. I think I'll stay away from that" laughed Taylor at The County Club in Dunshaughlin on Monday, having completed a workout at nearby Ratoath Golden Gloves a little earlier.
"I don't really need to do it. You look at the likes of Manny Pacquiao and (Gennady) Golovkin, they're the biggest names in boxing. Manny Pacquioa is the most loved boxer in the world and I've never heard him trash-talking. He always has a smile on his face. I'm definitely not gonna compromise who I am.
"It wouldn't be my style at all really. I was like 'I have to do another media workout?'"
Another big laugh.
"It's part and parcel of it. I just have to get on with things.
"I enjoy the challenge and am enjoying being a professional boxer. I have learned an awful lot being around top seasoned pros over the last few months as well and from being in the ring."
Far from finding having to be in Vernon, Connecticut - "the middle of nowhere" - for seven weeks a difficulty – is the home of coach/trainer Ross Enamait - it actually suits Taylor. It is different from training around others in the high performance gym at the National Stadium but she always tended to cocoon herself before major championships anyway.
"I'm just trying to get used to the dynamics of living abroad but the weeks go by fairly past with the busyness of training.
"I've always enjoyed my own company, even as an amateur. I liked to go into isolation before big competitions, I never liked to be around too many people, so it's not a big difference. It's been a brilliant few months for me out there."
There are no regrets about not attempting to cash in on her Olympic success in 2012 by turning professional then. Sure, she lost her Olympic and World titles in 2016 but while she wants to do for professional women's boxing what she did at amateur level, the environment wasn't right. The game wasn't receptive and the potential rewards weren't what they might be now either.
The environment has changed. There is demand not just in America but Peters has also had expressions of interest for fights in China, Germany and Scandinavia, and has had meetings with the likes of influential network executives Stephen Espinonza (Showtime) and Peter Nelson (HBO).
Peters oversaw Bernard Dunne's rise to world champion but that campaign was based in Dublin because the interest didn't exist outside of Europe. Taylor, he concedes, possesses much more global clout, but now the professional game and the networks are interested in having women's boxing front and centre, rather than as some sort of curiosity act.
Nicola Adams and Clarissa Shields also turned pro after the last Olympics, while around Taylor's "stacked" category, there are genuine stars in the Serrano sisters Amanda and Cindy, Heather Hardy and Cecilia Braekhus. Braekhus has referenced her desire to fight Taylor on numerous occasions.
In the meantime, Peters expects to headline a card, something he says wouldn't have been possible four years ago.
"I made those decisions to stay amateur because I had such a passion for amateur boxing at the time. The Olympics for me were absolutely huge. I definitely don't have any regrets. If I had turned pro earlier on the opportunities might not have been there."
She says she is improving. You hear it all the time from every sportsperson ever so you ask for specifics.
"I think my in-close work has improved, my in-close fighting. And I feel I've been punching a lot harder as well the last few months, I've gotten a lot stronger.
"I definitely feel in great shape. I feel like I'm boxing better than I have done in a long, long time, just from the sparring as well. I feel a lot stronger, I've been building a bit more muscle as well."
It is notable that she admits chasing the 60kg limit she boxed at for a decade or more as an amateur "was definitely a struggle for me" in latter years. One recalls how drawn she looked in Rio. This is certainly a healthier looking fighter, operating in and around 135lbs. Three pounds make a big difference in the lighter categories.
She will be kept active because there is much to learn still in terms of putting opponents away, and dealing with some of the roughhousing tactics that are more common in the paid ranks.
"The ultimate goal (is) to fight for a world title by the end of this year if all goes well but obviously I'll have to have a couple of 10-round fights lined up before that. I can't just go straight into a world-title fight. It's going to be a busy few months but I would like to be fighting for a world title sooner rather than later."
Taylor takes on 39-year-old Monica Gentili (6-6) on Saturday night back in London's O2 Arena, in front of another huge audience as David Haye takes on Tony Bellew in their heavyweight grudge match. The Italian stepped in after Milena Koleva, who fought for the IBF world super featherweight belt in January, pulled out last week with a chest infection.
There will be another bout in the Manchester Arena on March 25, on the undercard of the world lightweight title rematch between Anthony Crollo and Jorge Linares, before she gets in the ring once more in front of around 90,000 people at Wembley and millions more watching via TV/online media, as part of the undercard for the massive world heavyweight clash between Anthony Joshua and Wladimir Klitschko on April 29. Beyond that, there's the targeted world title fight and a bout in Ireland. What then?
"I don't put a time limit on anything. I'll probably be like Rocky, 53 and I'll still be boxing."